MELKA ESTATES
ELEGANT DESIGN IN AN UNDERSTATED PACKAGE
Sometimes the most elegant design solutions come in small, understated packages. Such is the case at Melka Estates, just off Napa Valley's Silverado Trail. A simple form derived from the agricultural vernacular of the California wine country, the dark barn-like structure is nonetheless a dramatic fixture set against the green and gold hillsides of the Napa Valley. Humble and unassuming yet arrestingly beautiful, it is a perfect expression of the dynamism and the humility of both its owners and its architect.
Philippe and Cherie Melka and their architect, Juancarlos Fernandez, are perhaps three of the most recognized names in the Napa Valley, known for their talent, their intense commitment to their craft, and their humility. Maybe that is why they get along so well.
As business partners, the Melkas' pedigrees are lengthy. A native of Bordeaux, with a degree in geology and a master's degree in agronomy and enology from the University of Bordeaux, Philippe is as connected to wine and the land as it is possible to be. He began his career at the top, at Chateau Haut Brion, then worked with Moueix Company, Chateau Petrus, and numerous wineries in Italy and Australia. Armed with a degree in microbiology, Cherie began her wine-making career at Ridge Vineyards, training under the legendary Paul Draper and working as the winery's enologist for five years. In 1991, their worlds came together with a chance meeting. While interning at Dominus, Philippe was visiting Ridge Vineyards to meet Paul Draper and taste his legendary wines when he walked into the lab and met Cherie. "Paul Draper was our matchmaker," laughs Cherie.
After spending a year and a half in France, the couple returned to the United States. Cherie worked with Beaulieu and Silver Oak Cellars. Philippe founded his company, Atelier Melka, and has spent over twenty years as a wine-making consultant to some of the Napa Valley's most prestigious family wineries, including Lail Vineyards, Dana Estates, Raymond, BRAND Napa Valley, and others. They cofounded Melka Estates in 1996, but it wasn't until 2017 that their wine venture had a home of its own.
The wine-making community in the Napa Valley is close and connected, as it is in the wine-making regions of Sonoma County and California's central coast. Since moving to the valley, the Melkas had lived in downtown St. Helena, raising two children and becoming deeply ingrained in the community.
But by 2011, they were looking for "less house, more land." A hillside site fronting the Silverado Trail, planted with two acres of Cabernet Sauvignon, offered just what they were looking for. They began by building a house on the hillside—a prefab modular home by Bay Area–based Blu Home—overlooking their vineyards and the valley floor. Next, they worked with Juancarlos to renovate an existing barn on the property to serve as a hospitality space with an airy upstairs tasting area, and a large ground-level space for events. Juancarlos brought in Blasen Landscape Architecture to tie the structures together with landscape.
"Juancarlos was our touchstone for everything here—the house, the renovated barn, the new production winery, the landscape," says Cherie. "We don't make any design decisions without him!"
They continued making their wine elsewhere until 2014, when they approached Juancarlos about building a new production facility on the site. Completed in 2017, the new winery is a simple barn-like structure with an emphasis on functionality and efficiency. Set parallel to the adjacent Silverado Trail, it is comprised of two prefabricated buildings painted a deep shade of charcoal. A landscaped berm lining the front of the site runs visual interference between the winery and the adjacent roadway. "The stealth dark color and the simplicity of the design reflects Philippe's humble and reserved personality, but at the same time it makes a bold statement, similar to the wines produced within the building," says Juancarlos.
The new winery totals just 2,000 square feet of interior space and 1,400 square feet of covered exterior space. Three separate HVAC systems allow the winemaking team to move the wine from place to place as it progresses through fermentation and barrel aging—a French approach to the wine-making process. Mobile cooling units can be relocated from place to place. "In a small winery, it's all about efficiency," says Cherie.
Set on axis with the hospitality building, the two prefabricated structures that comprise the production facility are augmented on nearly every side with covered space formed by extrusions of the standing seam roof. Over the hospitality-facing facade, a deep overhang creates a covered crush pad that Juancarlos calls "a modular cave." Two screened breezeways, one original and one added about a year later, provide flexible indoor-outdoor space along long facades to the east and west. A motorized shade protects the western facade from the intense afternoon sun.
An existing oak tree to the east defines the winery's central point—the intersection of two strong axial relationships. Set on axis with the grand oak and perpendicular to the road, a breezeway between the two structures forms a vaulted cavern equally well suited for production or events. In fact, the flexible spaces within the barrel rooms, under the extruded roofline and between the hospitality and production buildings, provide a variety of areas for entertaining, which the Melkas do often. "We have amazing events here," says Cherie.
The Melkas made their first vintage on-site in 2017, a fall season that saw some of California's worst wildfires ever erupt in Napa and Sonoma counties. It was a tough first harvest, but everything was saved. "We waited twenty years to do this," says Cherie. "It was a long road getting here, but we're really happy."
Author: Annette Hanami
AFTER DECADES of making coveted cabernet for other wineries, Philippe Melka enlisted Juancarlos Fernandez of Signum Architecture to design Melka Estates, a new winery in Saint Helena created for his own personal label. Having worked with Melka in the past, Fernandez knew how to reflect his client's personality as well as the highly rated wines.
For his French-born client, Fernandez looked to Europe for inspiration, particularly the northern climes, where clean-lined barns are designed for snowfall, equipped with few protrusions and steeper pitches. At Melka, Fernandez concealed the gutters, raised the roof and lowered the walls to create a barn that's more contemporary thanvernacular.
Blending the roof and walls, Fernandez minimized the language from peak to ground with a continuous standing seam. Spanning two storage rooms, the 2,000-square-foot vaulted cavern follows the contour of the valley.
The linearity is broken by a central breezeway that frames the view of the old oaks and mountains. On one end where grapes are received for crush, a veil of perforated steel allows for air circulation without losing the seamless look.
The all-black color appears organic against the dark powder-colored concrete floors and the native plantings in the landscape. Warm Brazilian hardwood doors and delicate bent plywood chandeliers were brought in to soften the entrance creating a warm energy.
To meet the client's requirements, the winery is prefab, designed to Signum Architecture's specifications. With each new project, Fernandez says, "We keep learning how to get the best use of prefabricated metal buildings as a tool for great design, instead of seeing them as a limitation."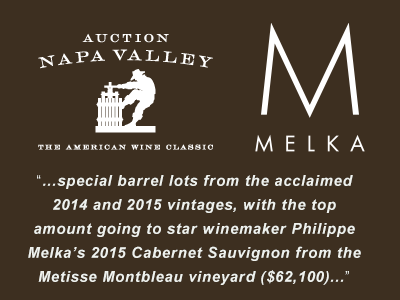 "The temperatures probably helped contribute to the Latin feel—on Friday, it was 99º on the grounds of Robert Mondavi Winery, where the barrel auction part of the event was held. That didn't stop bidders from going long on special barrel lots from the acclaimed 2014 and 2015 vintages, with the top amount going to star winemaker Philippe Melka's 2015 Cabernet Sauvignon from the Metisse Montbleau vineyard ($62,100)."
Read more at: Food & Wine Auction Napa Valley: The Fanciest, Most Fabulous Wine Event in the World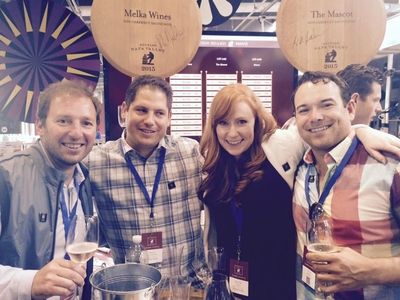 Melka Wines will be participating this June in Auction Napa Valley. We will hosting a Thursday night Vintner Welcome Event and will be featuring a barrel from the Estate Montbleau Vineyard in the Friday barrel auction. To procure one case of the ten made available from this extremely limited and specially hand-crafted barrel, get your tickets (click here) early or apply to bid by proxy. Our Jumping Goat barrel lot was the top barrel in 2012, and our Atelier Melka barrel won top barrel last year. Benefitting local charities, this auction is one that we support and hope you will too!
Warning
: getimagesize(.//assets/upload/images/news/0955_09.15_Melka ©Bronk.jpg): failed to open stream: No such file or directory in
/mnt/webdata/vhosts/melkawines.com/melkaestates.com/lib/posts.lib.php
on line
188
As plans come together for this years Member's event, it is imperative that you save the date of November 3-4, 2016. Make your travel arrangements now so as not to miss this over top celebration of our 20th year. Events include a retrospective tasting at the Culinary Institute of American in St. Helena and a party not to be missed at the new winery, and of course a few surprises during the weekend that we will not share in print.
Load More...