---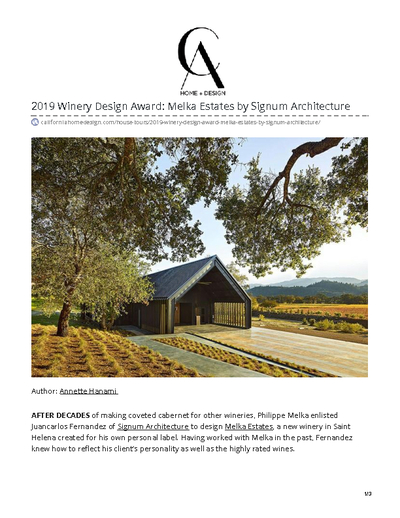 Author: Annette Hanami
AFTER DECADES of making coveted cabernet for other wineries, Philippe Melka enlisted Juancarlos Fernandez of Signum Architecture to design Melka Estates, a new winery in Saint Helena created for his own personal label. Having worked with Melka in the past, Fernandez knew how to reflect his client's personality as well as the highly rated wines.
For his French-born client, Fernandez looked to Europe for inspiration, particularly the northern climes, where clean-lined barns are designed for snowfall, equipped with few protrusions and steeper pitches. At Melka, Fernandez concealed the gutters, raised the roof and lowered the walls to create a barn that's more contemporary thanvernacular.
Blending the roof and walls, Fernandez minimized the language from peak to ground with a continuous standing seam. Spanning two storage rooms, the 2,000-square-foot vaulted cavern follows the contour of the valley.
The linearity is broken by a central breezeway that frames the view of the old oaks and mountains. On one end where grapes are received for crush, a veil of perforated steel allows for air circulation without losing the seamless look.
The all-black color appears organic against the dark powder-colored concrete floors and the native plantings in the landscape. Warm Brazilian hardwood doors and delicate bent plywood chandeliers were brought in to soften the entrance creating a warm energy.
To meet the client's requirements, the winery is prefab, designed to Signum Architecture's specifications. With each new project, Fernandez says, "We keep learning how to get the best use of prefabricated metal buildings as a tool for great design, instead of seeing them as a limitation."